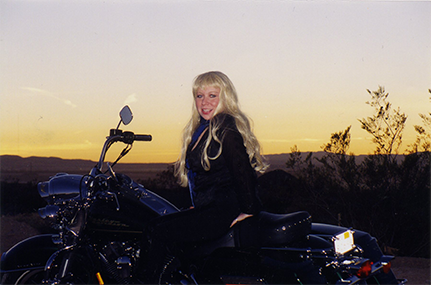 9a – 2p
Did you miss a Kim Kelly interview with some Classic Rock Stars? **Interview Archive coming soon!**
Kim Kelly is the Midday personality on the Classic Rock station 97.1 The Point. Kim has been a full time air talent for 32 years. She began in 1980 at age 18 in her hometown of Grand Junction, Colorado. At Mesa State College she left a promising career in the symphony orchestra after discovering the college radio station. Just a few months later she landed the evening show at the local top 40 station KEXO. From there Kim went on to Afternoon Drive gig's at rock station KKEG in Fayeteville, Arkansas as well as WKKN and WROK in Rockford, Illinios, WLLI in Joliet and WYEN in Chicago. She returned to her hometown in 1986 to be the Production Director and Afternoon Drive talent for Rock Q93 and a few years later moved to Classic Rock KSTR to be the Program Director and Morning Drive talent.
Kim moved to Las Vegas in 1995 to spend more time with her parents who retired here. She became the Promotion Director and Midday talent on 107.5 KFBI. When the station changed format Kim tried a new adventure becoming the airborne traffic reporter for Skyview Traffic and taking on 80 traffic reports a day on 6 local stations, one of which was 96.3 KKLZ where 18 months later she left the traffic plane when she was offered the Afternoon Drive show. That brings us to the present…after 9 years at KKLZ, KIm was ready for a change when Lotus Broadcasting offered her the Midday Show on 97.1 The Point where after 4 years she continues to garner great ratings playing the best classic rock interspersed with fascinating facts about the songs and artists, plus an all request lunch hour where listeners can pick their own favorite classic rock songs.
Kim has no kids except her Dachshund's Jilly & Max and Cody and her bird Buddy. Her hobbies include collecting rock memorabilia, jet skiing and sailing on Lake Mead with her husband Rob who is also in the music business at a lighting and sound company and who won Kim in a radio contest!