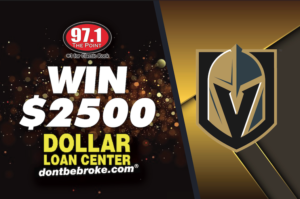 It's the Golden Knights of Christmas and 97.1 along with Dollar Loan Center are giving you the chance to win big this holiday season!
Keep listening to be the designated caller to score a Vegas Golden Knights prize pack and be entered into the drawing to win $2,500 from Dollar Loan Center and an autographed Vegas Golden Knights jersey.
Winner will be announced on Friday, December 18th, during Foxx and Mackenzie.
Dollar Loan Center offers a unique alternative to payday loans.
Find out more at https://www.dontbebroke.com/