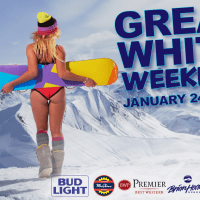 Brian Head – Great White Weekend
It's 97-1 The POINT's Annual Great White Weekend January 24th – 26th at Brian Head Resort. Join us for a weekend of skiing, boarding, sledding, live music, food, drinks, contests and prizes. Rooms start at just $119 per night at Best Western Premier. This weekend sells out every year so book yours today and ask for the Great White Weekend special. Go to POINT97.com for more information. Sponsored by McGhie's Ski…Bike and Board, Cedar City / Brian Head Tourism Bureau, Best Western Premier and Bud Light.
Click the links below or call direct to book!
Best Western Premier Hotel & Spa – 435-677-9000
Brian Head Resort 435-677-2035