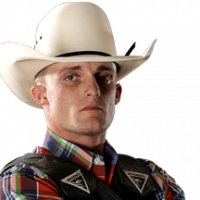 Professional Bull Rider Koal Livingston (#35) joined Foxx and Mackenze to chat about the upcoming 25th PBR World Finals which will hit Las Vegas from November 7-11. Check out some stats and information on Koal Livingston below!
---
#35 Koal Livingston
Twitter: @KoalLivingston
World Finals Qualifications: 1
Hometown: Burleson, Texas
Residence: Burleson, Texas
Height: 5-6
Weight: 145
Born: 5/16/98
Riding Hand: Right
Elite Tour Season: 2nd
Career Earnings: $65,046.59*
High-Marked Ride: 87.5 points on Ram It in Jacksonville, Florida on March 4, 2017
Personal:
Like many young boys, Koal Livingston followed in the footsteps of his father Nathan, a bull rider turned barrel man. At four years old, Livingston got on his first calf. As a 16-year-old freshman in high school he won the North Texas High School Rodeo Association Championship before he elected to solely compete at amateur bull ridings. When Livingston turned 18 in May 2016, he purchased his PBR card, entering his first Touring Pro Division (TPD) event at J.W. Hart's event Decatur, Texas just one month later. He competed in eight events throughout the remainder of the 2016 season, and in 2017 decided to focus on PBR events. Inspired by the success of young guns Kaique Pacheco and Jess Lockwood, both former Rookies of the Year, Livingston felt he could make an immediate impact on the PBR. At his first Real Time Pain Relief Velocity Tour (RVT) event in Hidalgo, Texas, he split the title with Pacheco, earning an exemption to compete at the premier series event in Sacramento, California. Still an 18-year-old, Livingston made his elite series debut at the Frontier Communications Sacramento Clash, covering his first draw Chantilly Lace for 84.5 points, to finish 19th. The event marked just his 15th PBR event since getting his card eight months prior. A regular on the premier tour since, Livingston's breakthrough moment came in Jacksonville, Florida where he logged his second qualified ride on the tour, an 87.5-point trip aboard Ram It, winning Round 1 of the event. He also became just the second 18-year-old in as many seasons, joining Lockwood, to win a round at the sport's highest level. Livingston's year concluded in Las Vegas, Nevada after he qualified for his first-ever World Finals. He finished thirty-fourth at the most prestigious event in bull riding after going 1-for-5. He finished his rookie season No. 35 in the world.
While Livingston has known since a child he wanted to be a bull rider, he also dabbled in other sports. The grandson of four-time Fort Worth Star-Telegram Texas State Golden Gloves Champion Paul Stephens, Livingston has experience as a boxer. Saying that his mother also boxed some when he was growing up, Livingston was poised to go to Golden Gloves before he broke his leg bull riding. While he didn't pursue a professional career in the sport, he says the training has helped with his bull riding. "It works with all kinds of different muscles you aren't used to working out every day. It is just a great workout. It keeps you on top of your game."
Livingston is one of four boys, including younger brother Kane who is an aspiring bull fighter. Koal and his girlfriend Neeci Moore reside in Burleson with their Rottweiler Debow.
Career Highlights
2017 – Made his elite tour debut in January at the Sacramento, California event where he was nineteenth…Qualified for his first-ever World Finals where he went 1-for-5 to finish 34th and concluded his rookie year No. 35 in the world.